Thai Leisure Group leverage their customer data to provide personalised marketing offers and enhance cookery school bookings with Seehoo™ Events
Thai Leisure Group is one of the leading Thai restaurant operators in the UK. With restaurant brands incorporating street food brand Thaikhun and it's more sophisticated Choaphraya chain, they have built a reputation that is recognised and valued nationwide.
Background
Like many larger multi-site restaurant chains, Thai Leisure group have customer data available to them from a number of sources but were not utilising this to drive their marketing and encourage customer loyalty. In addition to this they were operating a paper based system to manage the bookings of their cookery schools and wanted to bring an element of automation and sophistication to this process.
Solution
Thai Leisure Group turned to Seehoo™ to provide their restaurants with the ability to see and analyse their customer behavioural data, such as who is visiting each venue, how often they are coming and what size group they are in. Seehoo™ allows them to use this data to shape a loyalty programme which provides them the ability to softly incentivise and reward customers, based on how many times they visit a restaurant. They take a permission based marketing approach that's designed to engage these customers without requiring them to hold a loyalty card in their pocket.
Event Management
Alongside the core module, the Seehoo™ Events module also enables them to manage the bookings for their cookery schools. Having originally managed these with a paper-based system they can now handle their event bookings in a much more efficient way, including the ability to accept vouchers from third-party sites, such as Travelzoo and Virgin Experiences.
The system can provide the Event Manager with a single customer viewpoint and automates marketing activities and analysis and reporting functionality allows them to see who is taking up offers and loyalty incentives.
Thai Leisure Group experience a high volume of customers who want to change their cooking experience booking date. Seehoo™ Events allows staff to easily move attendees from one event to another, ensuring the vacated place is immediately left available. Confirmation and reminder emails are automatically sent from the system and can include further marketing messages, as a next call to action.
Integration to Facebook Adverts
We have also enabled Thai leisure Group to target customers, after they have visited the website or engaged with a direct email, on Facebook, using custom audiences. This enables them to drive the customer back to the restaurants from Facebook advertising, reducing advertising budget wastage.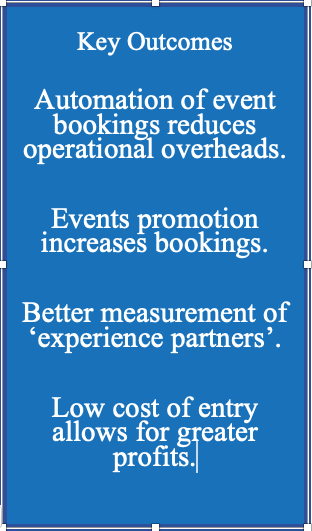 Thai Leisure Group have reaped great benefit from the introduction of Seehoo™. It has allowed them to bring valuable data in one single customer viewpoint. It has enabled intelligent and personalised targeting of relevant content and offers to its customers.
Moving from a paper system for managing the cooking school bookings they have been able to promote their events more efficiently and many dates quickly became sold out. They are also better able to measure the performance of 'Experience partners' such as Travelzoo and Virgin Experiences.
The system has lowered the operating costs associated with arranging, booking and organising the cooking schools and other events. As the system is developed with lean technology, and in a modular, pay-for-what-you-use way, the cost of entry is low, maximising profits.